Ladies and Gentlemen, the Nets have signed Kyrie Irving and Kevin Durant! This is not a drill. THE NETS HAVE SIGNED KYRIE IRVING AND KEVIN DURANT!!!!!!!!!!!!!! Sean Mark has come through in free agency.
---
Irving and Durant Officially Agree to Sign with the Nets
Irving and Durant to Brooklyn is a huge win for the Nets and the two biggest signings in Nets history. The rumors were true. It is a win for the culture the Nets have built over the last few years and all the changes in the organization. Durant and Irving turn the Nets into championship contenders in 2020-2021 when Durant returns from the achilles injury. The Nets have come a long way from the 21-61 team Sean Marks took over just over 3 years ago.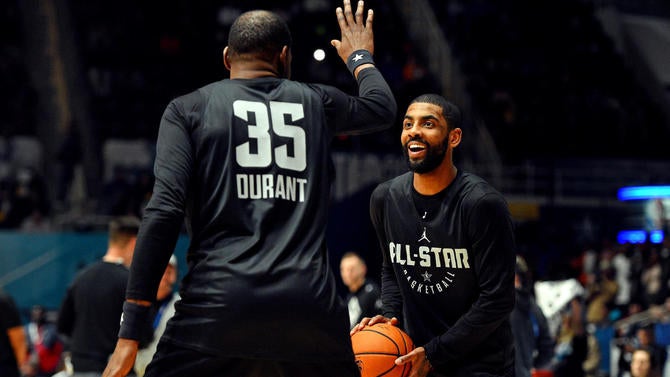 Culture
Bereft of draft picks the Nets managed to rebuild their roster into a playoff contender that made big-time players want to come to Brooklyn. This was not the first time the Nets had cap space to spend this decade with big free agents in the mix looking at Brooklyn. It is hard to forget the summer of 2010 when all the Nets were able to get was Travis Outlaw, Jordan Farmar, Anthony Morrow, and Johan Petro. This summer is not that. 
Signing Irving and Durant is not just about the Nets being a strong team but building a first-class organization. The Nets have a state of the art practice facility and a renowned training team. The organization welcomes family members and Sean Marks mentions player's families in the press conferences. This is what first class organizations do. 
Other Signings
The Nets did not stop at signing Kyrie and Durant but also managed to sign DeAndre Jordan and Garrett Temple. Earlier in the offseason, the Nets traded for Taurean Prince. This gives the Nets a rotation with Irving, Dinwiddie, LeVert, Temple, Prince, Kurucs, Harris, Jordan, and Allen for next year. Kevin Durant will be added to the team the year after. Even next year without Durant the Nets have improved the team from last season. The Nets without Kevin Durant are still a playoff team that can go win a series or two. 
What Can They Do
Prince is going to be a great addition for the Nets, especially with Brooklyn's player development program. Seriously, watch what he did to the Bulls last year. He can play at a high level. Prince also is 6'8″ and can guard both frontcourt positions and hit threes at about a 40 percent clip.
LeVert is also an ascending All-Star. That is what people were saying about him before he got hurt. Nets fans saw what he could do in the playoffs against a very good 76ers team. That Sixers team were the only ones to take Toronto to 7 games and they needed the first game 7 winning shot in NBA history to advance. LeVert gave them some problems.
Irving and Durant
Everyone knows what Kyrie Irving can do on the court. Kyrie is a championship winning, All NBA player coming to the Nets in the prime of his career. Research shows NBA point guards have their best years from 28-32. Kyrie Irving is now 27. Irving comes with baggage. Fans are right to be a little worried, but he's still the guy who did this to a 73 win Warriors team. Kyrie also put up 41 points on 17-24 shooting in game 5 of the Finals. That is who the Nets are getting. 
Kevin Durant is coming to the Nets as well. Durant just ruptured his Achilles in game 5 of the NBA Finals. Again, Nets fans should be cautious with what we expect from Durant. It is important to remember that the surgery was performed by the Nets team doctor. The Nets have a renowned player tracking service and training facility. Durant is in a GREAT place to conduct his rehab from. If he can return as 80 to 90 percent of the player he was the Nets are in great shape. Durant's game has never been based on overwhelming athleticism but silky smooth shooting. This bodes well for his recovery.
Modern Team
Great modern NBA teams are built around a few key pieces. Teams want point guards who can shoot and penetrate while working out of the pick and roll. Irving and Dinwiddie check that box. 
Teams want two-way wings who can attack off the bounce, defend multiple positions and knock down threes. LeVert, Durant, and Prince all check that box. 
Teams also want role player wings who can defend and knock down threes. Joe Harris and Garrett Temple check that box. 
Teams want guys at the 4 who can knock down threes and defend on the perimeter. Hello, Rodions Kurucs and Taurean Prince. 
Finally, teams want rim runners who can defend the rim and set good screens. Jarrett Allen and DeAndre Jordan fill that role.
The Nets are building the ideal modern NBA team with the moves they are making. The pieces all fit together and fit well. Irving and Durant make the Nets a legitimate contender in 2020-2021. That is all a fan base can ask for from a team. Again, the Nets are now contenders. This is a long way from 21-61 with no future first round picks.
The Future
The young Nets players are not finished products either. They are still getting better as well. These players are not a finished product. The Nets player development system will help them grow by leaps and bounds over the next two to three years. 
Nets fans should be excited for what the future holds for the organization. The Nets are now a perennial playoff team and a title contender 2 seasons from now when Kevin Durant returns. Irving and Durant are the biggest signings in Nets history. Not only are they coming to Brooklyn but the team around them fits together incredibly well. The Nets are set up to be a great team for the next 3-4 years. Celebrate today Nets fans and enjoy the new team. The future is bright in Brooklyn.
---
Finally a "Thank You" from Nets fans who owe a thank you to players like D'Angelo Russell, DeMarre Carroll, Ed Davis, Shabazz Napier, and Rondae Hollis-Jefferson for what they gave to the team over the last few years. The fans appreciate you and wish you luck on your next teams.
---
Featured Image: